Polyurethane was selected for this application because it is called "the king of abrasion resistance", besides, it is non-marking, shock absorbing and easily molded into any shape with excellent no or very low tooling cost. PEPSEN is experienced in designing cost-effective open cast mold that is capable of producing hundreds of thousands of polyurethane rollers with tight tolerances.
Before customers found PEPSEN, they had tested polyurethane roller from over 12 manufacturers from China and even 5 from EU, but the polyurethane failed, none of them can last over 3 months. PEPSEN engineers analyses the failure samples and found the polyurethane is damaged before steel roller core that indicates that the bonding strength is weak.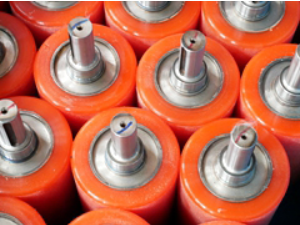 During the stage of sampling, we use the polyurethane formula with best bonding strength and we improve the way of sandblasting, cleaning and applying adhesive. The testing result shows that our rollers can last over 8-12 months. VP from customer visited PEPSEN on Jan 7 and sign a yearly purchasing contract that is around 3000pcs polyurethane rollers and wheels.
We can also add additives that will increase friction force/grip or add an anti-static additive.
PEPSEN general Engineering Paul Wang said.
About Pepsen
Shanghai Pepsen Polyurethane Co., Ltd. was established in 1996, located in Shanghai, China. PEPSEN is ISO9001:2015 certified manufacturer, with registered capital of around USD 1,000,000, over 3400 square meters of manufacturing floor space and 85 employees. PEPSEN specializes in researching and manufacturing standard and custom casting molded polyurethane products.